The Culinary Arts program consists of 68 credits of specific training required to prepare students for a variety of positions in the culinary industry. Students will learn the theoretical /practical knowledge that provides critical competencies to meet industry demands. Courses include sanitation/safety, baking, culinary fundamentals/production skills, nutrition, customer service, and management. Graduates should qualify for entry level opportunities.

Recent interest in health and food has led more and more companies to open businesses related to Culinary Arts in the science and art of cooking. Our program offers students an opportunity to become culinarians in the food service industry. This 92-credit program includes basic knowledge of food science, nutrition, diet, food safety and understanding of global cuisines, along with lab classes that offer students an opportunity to practice their skills and artistry.

With the rise of population and income growth, higher consumer demand for food is expected at a variety of dining places. People will continuously dine out, buy takeout meals, or have food delivered. As a response, more restaurants, cafeterias, and catering services will open, thus requiring more cooks to prepare meals for customers. Additionally, as people continue to prefer healthier foods and faster service in restaurants, grocery stores, and other dining venues, these places will demand experienced cooks who can prepare high quality meals
Employment of culinarians is estimated to grow 7% from 2016 to 2026, about as fast as the average for all occupations. Individual growth will vary by specialty.


2

q

!


| | | |
| --- | --- | --- |
| Number | Course | Credits |
| CUA101 | Fundamental of Cooking | |
| CUA153 | Sanitation and Safety | 4 |
| CUA160 | Basic Cooking Theory and Practice | 4 |
| CUA165 | Cooking Theory and Practice- Sauces, Soups, and Stocks | 4 |
| CUA171 | Meat, Seafood, and Poultry Preparation | 4 |
| CUA172 | Fruit, Vegetable, and Starch Preparation | 4 |
| CUA185 | Fundamentals of Baking | 4 |
| CUA188 | Pastry Arts | 4 |
| CUA204 | Nutrition | 4 |
| CUA216 | Western Cuisine | 4 |
| CUA218 | Asian Cuisine | 4 |
| CUA228 | World Cuisine | 4 |
| CUA253 | Recipe and Menu Management | 4 |
| CUA256 | Food Service System Management | 4 |
| CUA261 | Garde Manager | 4 |
| CUA262 | Advanced Cooking Theory and Practice | 4 |
| CUA270 | Career Development I | 4 |
| CUA271 | Career Development II | 4 |

| Number | Course | Credits |
| --- | --- | --- |
| BPS102 | Business and Professional Speech | 4 |
| ENG101 | English Composition | 4 |
| HIST203 | U.S. History | 4 |
| SPN101 | Introduction to Spanish I | 4 |
| SPN102 | Introduction to Spanish II | 4 |
| BIO102 | Introduction to Biology | 4 |
| CPS101 | Introduction to Computer Science | 4 |
| MAT101 | Algebra | 4 |
| MAT201 | Pre-Calculus | 4 |
| CRT101 | Critical Thinking | 4 |
| PSY101 | Introduction to Psychology | 4 |
| SOC101 | Introduction to Sociology | 4 |
| SOC201 | Society and Human Behavior | 4 |
| | Required 7 courses | 28 |
| | (Select from at least one of each section) | |
4


Frederick Lewis
Instructor, Culinary Arts
The Culinary Institute of America at Greystone, Napa California18 CEU credits in Baking and Pastry (1996)
Baltimore International Culinary College, Baltimore, MarylandAA Degree in Restaurant and Food Service Management (1989)AA Degree in Restaurant and Cooking Skills (1988)Certificate of Excellence in A La Carte Techniques/ Management (1988)
Career
Chef Owner Fairfax Hill Restaurant and Greenhouse Biergarten (2014-2020)
Chef Frederick's 2021 Bio
Professionally, for Chef Frederick everything seems to be coming up roses – or perhaps pate de foie gras, caviar and champagne. He is currently a Chef Professor, a long-time goal for him, as he believes that a piece of immortality and legacy is left behind by passing on knowledge to others in life.
A native of Maryland and currently residing in Washington, DC, Frederick has a multi-decade career in the hospitality industry as a culinary specialist. He has held many executive level positions throughout his lengthy career in many different types of venues. Hotels, Private Clubs, On and Off Premise Caterers, Consultants, and Restaurants are a few. His highest attained career position culminated in being the Chef Owner of the historic Fair Hill Inn Restaurant. Frederick attained this colonial property (circa mid 1700's) in 2014 and built on the property an addition -the Greenhouse Biergarten. The glass enclosed Biergarten offered brick oven fare in a plant filled casual ambiance. Chef also continued with the elegant fine dining restaurant inside the granite house (know as the Mitchell House) where he practiced his craft and style (Reginal New American) with highly acclaimed accolades. Chef Frederick sold the property and restaurant in early 2020. He is now enjoying teaching culinary arts classes as a professor-instructor.
As a youngster growing up in Bel Air, MD, Frederick discovered the kitchen was his favorite place to be. "My earliest kitchen memory was of my Italian grandmother cooking homemade breads, pastas, sauces and pizzas. I was fascinated with the aromas and the seemingly magical transformation of basic raw ingredients to magnificent dinner creations. I started cooking at home for the family and moved on from there."
Chef graduated from the Baltimore International Culinary College with two degrees-one in Restaurant and Cooking Skills and one in Restaurant and Foodservice Management with certificates of excellence in Restaurant a la Carte Techniques and Service. A few years later, Frederick continued his education by attending the Culinary Institute of America at Greystone in Napa Valley, CA where he studied an intensive Baking and Pastry program. He finished with an additional six courses of specialized study under his belt.
"I am happy and joyful when I am around food and beverage", says Chef Frederick. "It brings me great pleasure to create deliciousness and then offer it to others to enjoy. We are all more connected when we can dine together."

Sophia Christian-Holliday
Sophia Christian-Holliday has been an educator for 14 years.
She earned her M.S. in International Hospitality Management from Stratford University, B.S. in Food Service Management, and an A.S. in Culinary Arts.  She has taught Culinary Arts and Hospitality Management in a variety of settings. Sophia currently teaches Culinary Arts for Harford County Schools and Hospitality Management courses for Columbia College.
Future career & Job Outlook
Chef, Service Manager, or Educator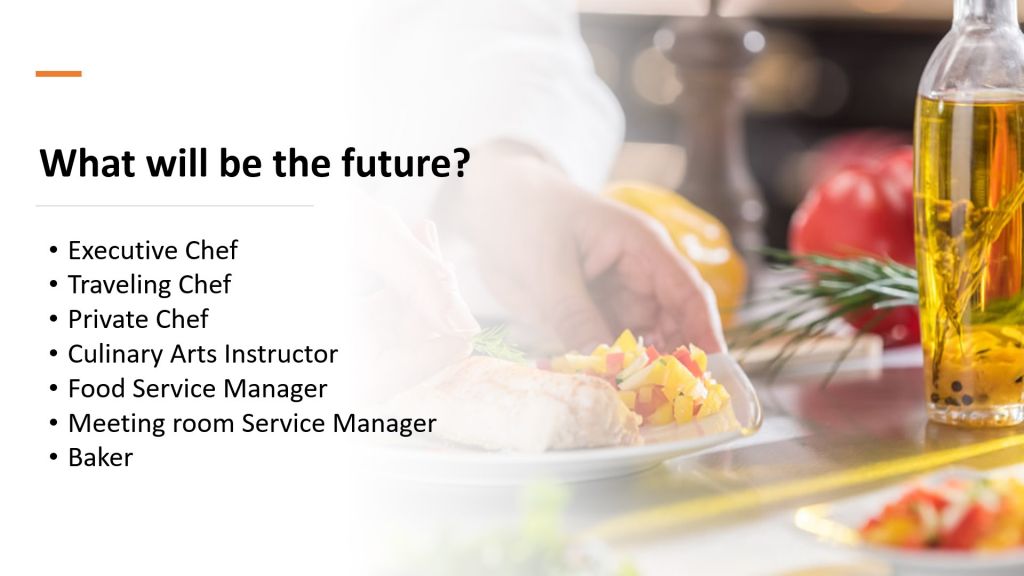 Medium Salary