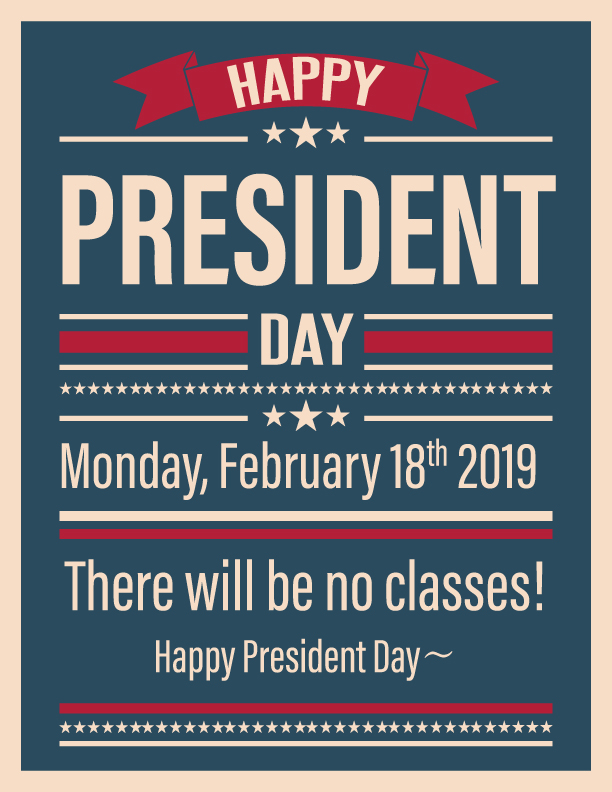 Presidents Day 2019
Presidents Day is an American holiday celebrated on the third Monday in February; Presidents Day 2019 occurs on Monday, February 18. Originally established in 1885 in recognition of President George Washington, the holiday became popularly known as Presidents Day after it was moved as part of 1971's Uniform Monday Holiday Act, an attempt to create more three-day weekends for the nation's workers. While several states still have individual holidays honoring the birthdays of Washington, Abraham Lincoln and other figures, Presidents Day is now popularly viewed as a day to celebrate all U.S. presidents, past and present.
Did you know? President's Day never falls on the actual birthday of any American president. Four chief executives—George Washington, William Henry Harrison, Abraham Lincoln and Ronald Reagan—were born in February, but their birthdays all come either too early or late to coincide with Presidents Day, which is always celebrated on the third Monday of the month.
The story of Presidents Day date begins in 1800. Following the death of George Washington in 1799, his February 22 birthday became a perennial day of remembrance.
At the time, Washington was venerated as the most important figure in American history, and events like the 1832 centennial of his birth and the start of construction of the Washington Monument in 1848 were cause for national celebration.
While Washington's Birthday was an unofficial observance for most of the 1800s, it was not until the late 1870s that it became a federal holiday. Senator Steven Wallace Dorsey of Arkansas was the first to propose the measure, and in 1879 President Rutherford B. Hayessigned it into law.
The holiday initially only applied to the District of Columbia, but in 1885 it was expanded to the whole country. At the time, Washington's Birthday joined four other nationally recognized federal bank holidays—Christmas Day, New Year's Day, the Fourth of July and Thanksgiving—and was the first to celebrate the life of an individual American. Martin Luther King Jr. Day, signed into law in 1983, was the second.
Presidents Day Celebrations and Traditions
Like Independence Day, Presidents Day is traditionally viewed as a time of patriotic celebration and remembrance. In its original incarnation as Washington's Birthday, the holiday gained special meaning during the difficulties of the Great Depression, when portraits of George Washington often graced the front pages of newspapers and magazines every February 22.
In 1932, the date was used to reinstate the Purple Heart, a military decoration originally created by George Washington to honor soldiers killed or wounded while serving in the armed forces. Patriotic groups and the Boy Scouts of America also held celebrations on the day, and in 1938 some 5,000 people attended mass at Saint Patrick's Cathedral in New York City in honor of Washington.
In its modern form, Presidents Day is used by many patriotic and historical groups as a date for staging celebrations, reenactments and other events. A number of states also require that their public schools spend the days leading up to Presidents Day teaching students about the accomplishments of the presidents, often with a focus on the lives of Washington and Lincoln.
GEORGE WASHINGTON'S BIRTHDAY CELEBRATION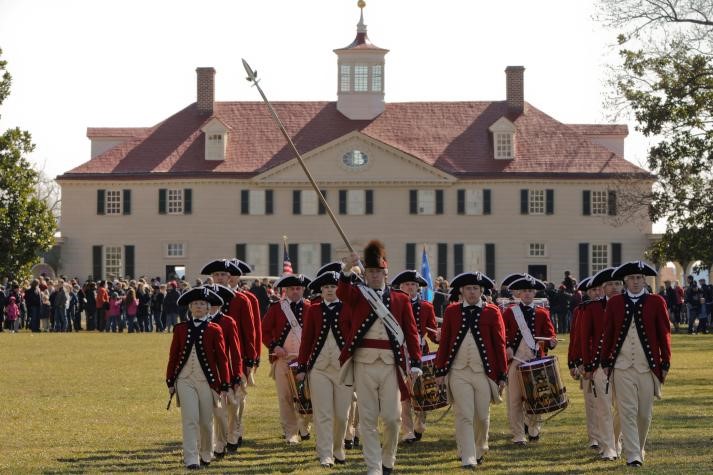 Date: February 18, 2019
February 22, 2019
Contact: PHONE: 703-780-2000
Time: Starting: 09:00 AM
Price: Free
LOCATION: George Washington's Mount Vernon
      3200 Mount Vernon Memorial Highway Mount Vernon, VA
Monday, February 18, 9am-5pm
Witness a presidential tribute featuring honored guests and a wreathlaying at the Washington's Tomb. Listen to George Washington and esteemed speakers during the Official Observance Ceremony of George Washington's Birthday on the east lawn. Watch Continental soldiers conduct a marching drill, fire their guns, and charge at their enemy in an exciting military demonstration on the bowling green. After the smoke clears, listen to the Old Guard Fife and Drum Corps play patriotic music.
Throughout the day, #PoseLikeThePrez in the Education Center Lobby and enjoy character performances around the estate. Admission is FREE!
Visit the Washington Library for the rare opportunity to tour the reading room and examine replica documents. Learn about the Library's collections and programming from its staff. In the Vaughan Lobby, sample Falling Bark Farm's Shagbark Hickory syrup from 11am to 2pm and greet author Jeff Finegan who will sign books from his series, I Knew George Washington, from 10am to 4pm.
Friday, February 22, 9am-4pm
Celebrate with General Washington in honor of his 287th birthday! Create a birthday card for our first president, enjoy a patriotic concert, and observe a moving ceremony honoring new citizens.
Guide to Presidents Day in Washington, D.C: Exhibits, Events, Things to do
Visit the Lincoln Memorial (https://www.tripsavvy.com/lincoln-memorial-washington-dc-guide-1039288) and honor President Abraham Lincoln's birthday at a wreath-laying ceremony with a dramatic reading of the "Gettysburg Address." Presidents Day weekend is a popular time to explore one of the nation's most important memorials. The historic landmark offers panoramic views of the nation's capital and is one of the top attractions in Washington, D.C.
ü  Attend George Washington's Birthday Parade
The country's largest Presidents' Day Parade is held annually in Alexandria, Virginia along the streets where George Washington once walked. This year's date is on February 18, 2019. Spend the day exploring historic sites in Old Town Alexandria, the historic town that was an important port during the colonial, revolutionary and Civil War periods.
The 500-acre Mount Vernon Estate and Gardens, the home of George Washington, offers three days of special events for Presidents Day weekend including music, demonstrations, wreath-laying ceremonies, and storytelling. It is a great time to visit the historic attraction and learn more about the life of the first president of the United States. Admission is free on Presidents Day!
https://www.tripsavvy.com/celebrate-presidents-day-at-mount-vernon-1039070
The American Presidency: A Glorious Burden exhibit at the Smithsonian National Museum of American History explores the lives and contributions of the 43 men who have led the nation in the past 200 years. The exhibit features more than 900 objects and artifacts that bring to life the role of the presidency in American culture.
https://www.tripsavvy.com/smithsonian-national-museum-of-american-history-1039320
View the "American Presidents" exhibit and see a portrait of every American president including rarely seen works of George Washington and Abraham Lincoln. On Presidents Day weekend, the National Portrait Gallery will offer a variety of family fun activities ranging from calligraphy workshops to scavenger hunts, games, music, and hands-on activities.
https://www.tripsavvy.com/smithsonian-american-art-museum-1039889
Each year, the Saturday night before President's Day, a Birthnight Ball is held at Gadby's Tavern in Alexandria, Virginia. The ball is complete with toasts, dinner, a historical program, and George Washington's favorite 18th-century dances. Gadsby's Tavern is one of the few 18th-century taverns still in use in the United States. George Washington, John Adams, James Madison, and Thomas Jefferson frequently attended dances, theatrical performances, and meetings here. Reservations are required as this event always sells out! For tickets, visit www.alexandriava.gov. This year's event will be held Saturday, February 18 from 5:30 p.m. to 11 p.m. in the historic ballroom.
Take a free tour and walk in George Washington's footsteps through his hometown, historic Alexandria. View some of the sites connected to the General, like where he filled his prescriptions or slept overnight. Begin your journey at the Ramsay House Visitors Center (221 King Street, Alexandria, VA).
https://www.tripsavvy.com/alexandria-virginia-guide-1039367
ü  Attend a Revolutionary War Reenactment
The Fort Ward Museum in Alexandria, Virginia will host Revolutionary War Day on Sunday, February 17 from 10 a.m. to 3:00 p.m., with encampment activities beginning at 10 a.m. and a skirmish at 2 p.m. where you can learn about fighting tactics and what life was like for Revolutionary War soldiers.
https://www.tripsavvy.com/fort-ward-park-1039334
Madame Tussauds Washington, D.C. houses a US Presidents Gallery, which features wax figures of all 44 US Presidents. The interactive attraction brings historical figures and events to life through wax figures that visitors can touch, see and hear.
https://www.tripsavvy.com/madame-tussauds-dc-presidents-4064146