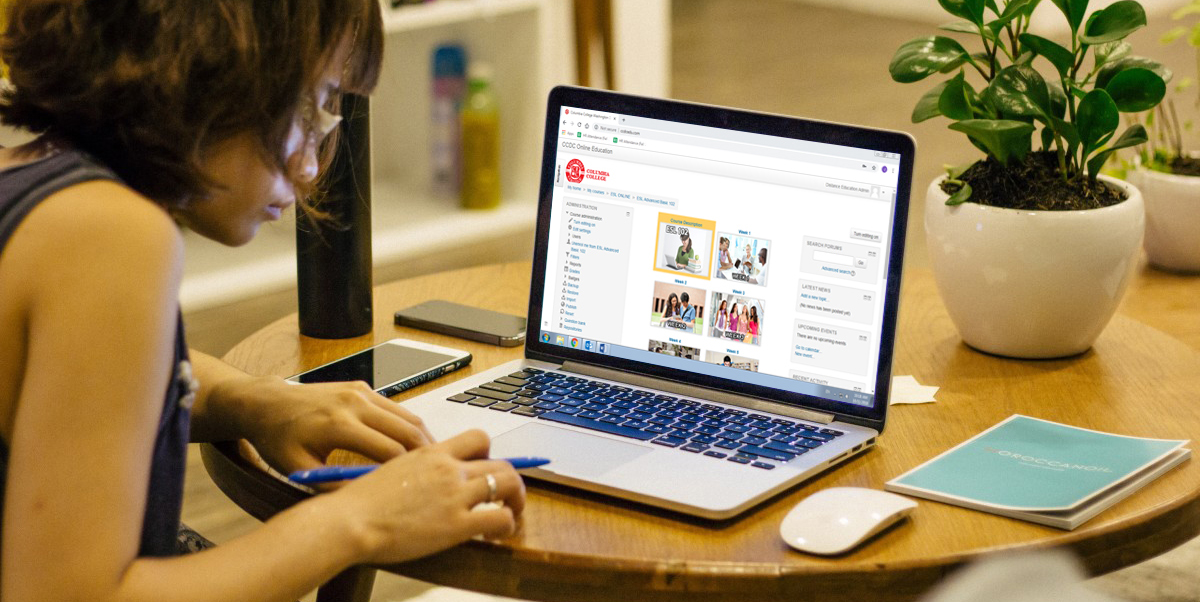 The main purpose of online VESL program is to improve students' English fluency so that they can obtain better opportunities in the U.S. with less or no communication barriers. The online VESL program is mainly designed for the students who need to improve English but have issues attending on-site VESL classes due to time conflict or mobility problems.
!

Learn English anywhere and anytime
Financial Aid available to those who qualify
We provide laptops to students as a learning tool
Accredited by Council on Occupational Education (COE)
Fully Synchronized with Offline VESL program
Four levels:

100 – Beginning
200 – Intermediate
300 – Advanced
400 – High-advanced

60-week Program (Capable of transfer to degree programs upon completion of 302)
Full support not only from the Online VESL Student Support Team but also from the Homeroom Teacher & Hybrid class program. Take advantage of both Online and Offline support.
Hotline service 7 days a week, 12 hours a day.
Reliable placement test: CaMLA


!

Homeroom Teachers will meet the students via Skype each week to:

Teach practical English
Offer peer to peer contact for students
Engage in listening and speaking activities
Promote and encourage participation
Keep students motivated
Give feedback

Click here to learn about our Homeroom teachers


1

The students also have the opportunity participate in a hybrid classes if they want to meet instructors face-to-face. The Hybrid Classes are the combination of both online and residential classes. The students will have the flexibility of completing the online course at their own convenience and are expected to meet the instructors at the class only twice a week.


!
Level
Description
101 – Beginning I

102 – Beginning II

The beginning level introduces students to both spoken and written forms of English language using modern methods.

The students are given opportunities to practice speaking, listening, reading and writing.

201 – Intermediate I

202 – Intermediate II

The intermediate level continues to give students more opportunities to improve their English abilities in speaking

and listening, and meanwhile introduces students to the basic skills of academic reading and writing; for example,

how to locate main ideas, skim, and find context clues. Writing at this level focuses on developing paragraphs with

appropriate thesis statements. In addition, writing process such as introduction, body and conclusion will also be introduced.

301 – Advanced I

302 – Advanced II

The advance level strives to enhance student' English ability in speaking, listening, reading and writing. The students are

exposed to common idiomatic expressions, both in spoken and written forms, and they are also introduced to reading and

writing academic research. The students will have the opportunity to research and to write about a topic, and at this level

they will learn how to find and cite sources for their research papers

401 – High-advanced I

402 – High-advanced II

English listening and speaking skills needed in the academic community and workplace are introduced in this level.

Students will practice writing and discussing on topics from different discipline. For Reading and Writing, students

will be presented a wide variety of types of academic genre and practice reading skills, such as locating key ideas,

understanding chart and graphs, adjusting speed accordingly, etc. Vocabulary strategies roots and affix will be introduced

in this course. The writing instruction will focus on academic writing structure, topic and argument development.